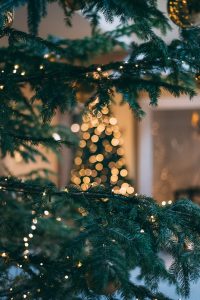 Sleigh bells ring, are you listening? Houses decked out with sparkly lights, framing trees shimmering through living room windows . . . 'Tis the season. I can almost taste Mom's homemade almond roca, peanut brittle or fudge. Mmm . . .
This time of year, I especially miss my mom. Truthfully, I remember only a handful of times during our lives that we didn't spend Christmas together, so I suppose it's natural to feel a void. If we can't be together, I wish I might at least call her up to hear her voice, but sadly acknowledge this possibility disappeared with her passing ten years ago.
Perhaps I should have moved on by now, but, nope, I still feel that same empty place in my heart. Over time, I have created another way to feel a closeness—I call her up in a different way, by conjuring her voice in my head. "We" carry on an internal conversation and I realize this ability to "talk" with her is limitless.
A feeling of comfort settles around me, as I imagine her voice speaking soft words of endearment, during this season of love.