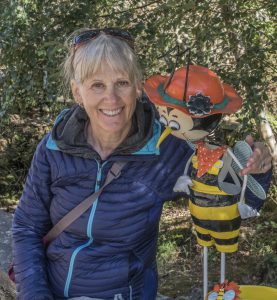 My life journey began in a small town in eastern Montana, known for its cowboy bars and yearly "world-famous" bucking horse sale. Breaking the mold, I did not grow up to marry a cowboy or live on a ranch. Within a couple days of receiving my diploma from Montana State University, I boarded a plane for Europe. I spent the next two months vagabonding through eight different countries, before settling into married life and a new job in Midland, Michigan.
Three babies, three moves and a new husband (much) later, I am now happily settled back into the unhurried life of a Montanan, in the south-central part of our beautiful state. The babies have long since grown and gone, although to my delight, my son and his wife moved back to Montana, which means I now have three grandsons nearby!
For over 30 years, my passion was teaching, working with thousands of women and babies as a breastfeeding educator. During my career, I spoke at numerous Lactation Conferences, both nationally and internationally and co-wrote many lactation articles and case studies, which have appeared in different lactation journals, as well as being referenced in books. In January of 2014, I made the decision to leave this career behind in order to focus on writing.
Journaling has been a part of my life since the age of 16, a form a therapy that has helped me cope with the ups and downs of life. In 2005, after my mom was diagnosed with Alzheimer's and my dad with Parkinson's-related dementia, I began writing about our family's journey. Over time, this diary became my first book-length work, a memoir detailing our rocky road through this devastating disease. I was inspired to seek publication of Somebody Stole My Iron: A Family Memoir of Dementia after sharing it with friends and friends of friends traveling the same difficult road and hearing them tell me how much reading my words helped them on their journey.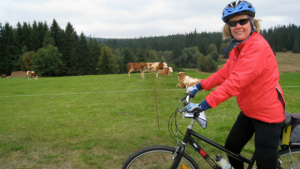 In 2015, I was one of three finalists for the Best Woman Writer category (Somebody Stole My Iron: A Family Memoir of Dementia) in the High Plains Book Awards, which encompassed over 200 entries from 7 western states and 3 Canadian provinces.
Today, I am one of the founders of AlzAuthors, a website created to increase awareness of dementia. Our goals are to reduce the stigma of a dementia diagnosis and to connect resources with caregivers. Over the past two years, our website has posted well over 100 essays by authors and bloggers of books about dementia from around the world. Each week we feature and promote an author/blogger on AlzAuthors.com. In order to support the work of AlzAuthors, I am an Amazon Affiliate.
My second book, Maggie, A Journey of Love, Loss and Survival, delves into past generations of my mother's family. Only seven years old when Great-Grandma Maggie passed away, I unfortunately didn't know her well, but I did grow up listening to stories about her. I carried those stories into adulthood and have melded them with genealogical research and imagination to create a work of historical fiction, a tribute to the intrepid life of my great-grandmother, written in remembrance and recognition of a time when women had few rights.